120 # Solvent Oil
Chinese name
120 # 溶剂油
Nickname
solvent petrol for rubber | rubber solvent naphtha
Vulgar name
is electric oil
Main components
white alcohol
Usage:
Transparent appearance,colorless and tasteless.Content of benzene, arene and Br-index are above national premium grade.Widely used in rubber,tyre,pharmaceuticals,shoe-making and adhesives industries.
Typical Specifications: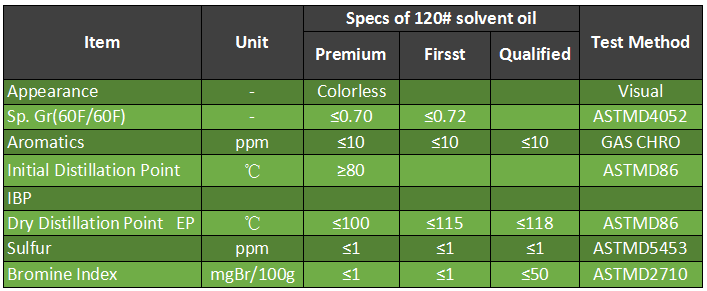 Attention:
Flammable and volatile. Must be kept in cool, well ventilated place with fireproofing facilities, and away from combustion source. Product transport and storage shall comply with relative regulations.