Usage:
Product Name and Physical Properties
l Product Name: Catalyst Sulfiding Agent
l Product Code: JYA-56
l Chemical Components: Di-Tert-Butyl Poly(Poly)Sulfide
l Product Physical Index:
Items

Quality Index

Method of Analysis

I

II

Flash Point (Opening),℃

≥100

≥85

GB/T 3536

Appearance

Dark Brown or Tan Liquid

Visual Inspection*

Odor

Lower Odor

Sniff Inspection

Solubility

Insoluble in Water,
Miscible in Alcohol, Ether, Etc.

Visual Inspection

Density(20℃), g/cm3

1.08-1.15

GB/T 4472

Sulfur, %(m/m)

53-56

GB/T 17040

Solidifying Point

≤-30

GB/T 510

Ash, %(m/m)

≤0.05

GB/T 508

Kinematic Viscosity(40℃), mm2/s

To Be Reported

GB/T 265

Initial Thermal Decomposition Temperature

125-155

GB/T22025

*Inject the sample into a 100mL glass measuring cylinder, and the sample should be dark brown or tan liquid when observed at room temperature.
Application I
JYA-56 Sulfiding Agent is widely used in the fields of oil refining, petrochemical, coal chemical, fine chemical and other fields for hydrogenation catalyst presulfidation, sulfur supplementation and sulfur injection; it has achieved good environmental protection and safety production effects and economic benefits.
Application II
JYA- -56 is widely used in cracking furnace tube coking inhibitors in the ethylene industry, sulfur supplementation and sulfur injection; it has achieved good environmental protection and safety production effects and economic benefits.
Characteristics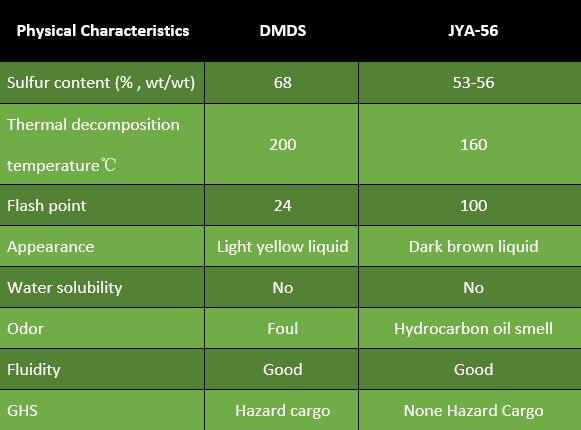 | | | |
| --- | --- | --- |
| Physical Characteristics | DMDS | JYA-56 |
| Sulfur content (% , wt/wt) | 68 | 53-56 |
| Thermal decomposition temperature℃ | 200 | 160 |
| Flash point | 24 | 100 |
| Appearance | Light yellow liquid | Dark brown liquid |
| Water solubility | No | No |
| Odor | Foul | Hydrocarbon oil smell |
| Fluidity | Good | Good |
| GHS | Hazard cargo | None Hazard Cargo |
(1) The flash point (open cup)of this product is as high as 100°C, which is significantly higher than that of dimethyl disulfide (DMDS), so to leads to a safer storage, transportation, injection handling and other characteristics. In addition, the product does not require a water seal for storage, and there is no special protection and strict regulatory requirements for transportation and usage, which greatly reduces the risk of production.
(2) Compared with dimethyl disulfide (DMDS), it is not easy to volatilize under normal temperature and pressure, and has only a light smell when loading and unloading, no unpleasant smell, so the operating environment is friendly.
(3) The decomposition temperature of this product is lower than that of dimethyl disulfide (DMDS), and the decomposition temperature range is wide. It is easy to be adsorbed by the catalyst, and the adsorption effect is better. A certain molecular weight distribution can effectively protect the hydrogenation catalyst from being thermally deactivated during the heating process.
(4) The appearance of the product is a dark brown liquid, and it is easy to judge and verify the injection volume through the liquid level gauge during the vulcanization process.
(5) This product has the environmental protection concerns of saving hydrogen consumption and reducing sulfide emissions.
Transport information:
Storage
Store in a cool, ventilated place. When storing in the warehouse, ventilation should be maintained, and electrical facilities such as lighting should be explosion-proof, and stored separately from oxidants, reducing agents, acids and alkalis, and hazardous chemicals. If it is stored outdoors, it is necessary to protect it from exposure to the sun and rain, and keep it away from fire and high temperature areas. The storage area is equipped with first aid safety equipment such as emergency leakage treatment and containment.